Winhere Brake Parts Wins Receiver's Choice Award From O'Reilly Auto Parts
Views: 25 Author: Site Editor Publish Time: 2018-05-02 Origin: Site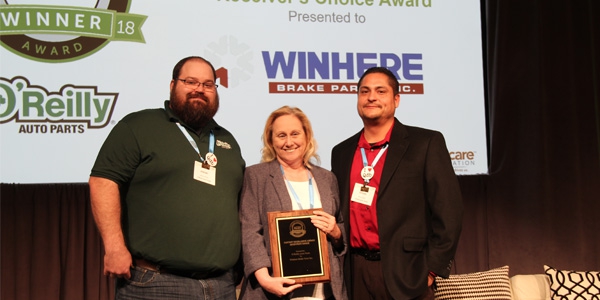 Left to right: Jeremy Schultz, electronic content systems manager; Patti Corso, catalog manager, Winhere Brake Parts; Efrain Tena, electronic catalog systems manager, O'Reilly Auto Parts.
O'Reilly Auto Parts recently honored Winhere Brake Parts with its Receiver's Choice award for catalog excellence at the Automotive Content Professionals Network (ACPN) Knowledge Exchange Conference in Ft. Worth, Texas.
O'Reilly gives the award annually to the auto parts manufacturer partner that consistently delivers the best-in-class customer service support with quality, clean, timely and responsive catalog content data.
"This is a great honor for Winhere to be recognized for our commitment to highest quality catalog and product data," said Doug Labac, vice president for sales and marketing. "We have built a great, collaborative relationship with the O'Reilly catalog team and will continue to invest in industry-leading technology and resources to support our customer's content and data requirements."