Winhere Participated in Automechanika Shanghai 2019
Views: 22 Author: Site Editor Publish Time: 2019-12-15 Origin: Site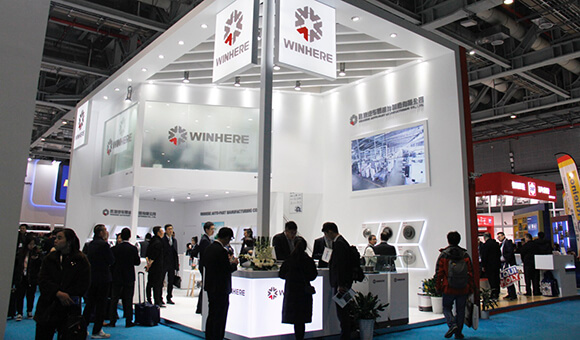 On 3rd, December 2019, the 15th Shanghai Automechanika 2019 was grandly opened at the National Exhibition and Convention Center in Shanghai, 6590 exhibitors and around 160 thousand visitors attended in this show from all over the world. As one of the most worldwide influential manufacturers in the brake industry, Winhere showed up at booth 2.1F100 near to the main aisle in the hall of well-known international brands.
We exhibited many finely samples such as OE bi-metallic composite discs, slotted patent discs, brake pads with premium vehicle application, etc. Our booth was designed with two floors structure for the first time. All of these attracted numerous visitors and also showed our unique design ability and development capabilities adequately on the basis of strong manufacturing capabilities. China Championship Manufacturer and China National Green Manufacturer awards also made the visitors realize that Winhere is not only responsible for the product quality, but also can bear the heavy responsibility of protecting the environment.
In the meeting room on the second floor of our booth, we posted our award" China Championship Manufacturer" just received in October 2019 from Ministry of Industry and Information Technology of People's Republic of China and China Federation of Industrial Economics, which has become a hot topic for each customer during the meeting.
This exhibition was held successfully. Partners from all over the world gathered here to discuss strategies for a long-term cooperation, and how to jointly cope with fast changing in aftermarket of auto parts. After many communications and negotiations, potential customers had a deeper understanding of Winhere, greatly improving the possibility of cooperation; Existing customers have enhanced their confidence in our products and services, laid a solid foundation for closer cooperation in the future.